Benefits of Hybrid Falling Film Technology in YORK® Chillers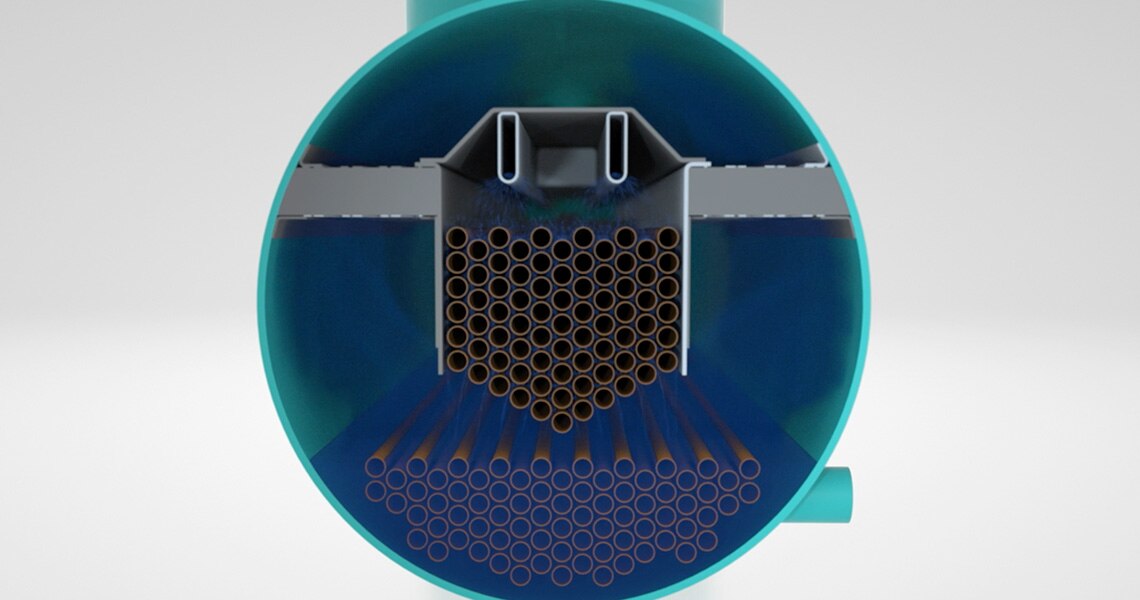 When choosing a chiller, you shouldn't have to pay an efficiency penalty to be environmentally responsible. Thanks to patented, hybrid falling film evaporator technology from Johnson Controls, you don't have to. Here's what you need to know about the unsurpassed efficiency of falling film evaporator technology available in many YORK® chillers.

Falling Film Evaporators Help Offset Chiller Refrigerant Costs
Chemically complex refrigerant alternatives like HFO blends are more expensive to produce than HFCs, and it is expected that even years from now they will still be 4-6 times more expensive than today's HFC prices. These costs are also subject to varying taxes and availability uncertainty in some locations. As refrigerant costs climb, reducing the amount of refrigerant charge required in a system can yield significant financial benefits.

Increased Chiller Efficiency
A thin film of refrigerant covering a tube evaporates more quickly than a full shell of refrigerant surrounding a submerged tube, resulting in a heat transfer coefficient that is very high. Higher heat transfer coefficients lead to more efficient chillers.

Less Refrigerant Required
With improved heat transfer characteristics, we can reduce the amount of refrigerant required versus a flooded evaporator design and, at the same time, provide smaller shells. In a YORK® centrifugal or screw chiller equipped with a falling film evaporator, the amount of refrigerant required for the same cooling capacity is at least 20% less than with traditional, flooded evaporators. Unlike with flooded designs, falling film evaporators don't require the entire shell to be filled with refrigerant to submerge all the tubes. Instead, a thin film of refrigerant only covers the surface of the tubes.

Simpler and Smarter
By implementing falling film technology, we can reduce or eliminate the need for oil separators in screw chillers, resulting in both a lower cost and sound levels. The simplification of the compressor design also allows for the elimination of many connecting parts and potential leak points. And with the reduction in refrigerant charge requirements and increased efficiency, YORK® chillers with hybrid falling film technology easily meet LEED requirements for Energy and Atmosphere Credit 4 (EAc4) – Enhanced Refrigerant Management.

Protecting Your Bottom Line
YORK® hybrid falling film technology has been carefully optimized for superior efficiency, minimized refrigerant charge and optimal reliability. As with our other innovative chiller models, YORK® chillers with hybrid falling film technology have been and continue to be the best at operating efficiency in real-world conditions. These chillers reduce operating costs, improve your environmental impact and protect your financial bottom line – now, and in the future.
YORK® hybrid falling film technology protects your financial bottom line – now and in the future – through increased chiller efficiency and reduced refrigerant costs. Watch this video to learn more about it.
Benefits of YORK® falling film evaporator technology
Offset chiller refrigerant costs and reduce financial risks
Increase chiller efficiency with improved heat transfer coefficients
Meet LEED requirements for Energy and Atmosphere Credit 4 (EAc4)
Achieve lower sound levels in screw chillers by reducing or eliminating the need for oil separators