YK Centrifugal Chiller
250-3,000 TR (880-10,550 kW)
From schools to data centers, this water-cooled, centrifugal chiller delivers flexibility, performance and efficiency to any facility.
Designed for maximum efficiency in the real world where 99% of the cooling season is spent in off-design conditions
Lower installation, operating and maintenance costs
Advanced innovations, like a variable-speed drive, falling-film evaporator and OptiView™ Control Center
Back to Top
Overcoming Limitations
A facility's challenges are unique, whether a school, hospital, high-rise building or data center, and each day is different. Hot or cold, humid or dry – a facility must handle the challenges of climate and seasonal or even hourly variations. That's why YORK® created a centrifugal chiller that handles a project's unique variables – the YORK® YK Centrifugal Chiller. The YK chiller delivers real-world performance thanks to an exclusive combination of features. 
Benefits
LOWEST TOTAL COST OF OWNERSHIP
Lower installation, operating and maintenance costs with system design choices that pay off in less than one year.
ADVANCED INNOVATIONS FOR UNRIVALED PERFORMANCE
We engineered an unprecedented array of innovations into an integrated design that delivers superior performance with efficiencies as low as 0.20 kW/ton (17.6 COP).
PROVEN EXPERIENCE IN APPLICATIONS, SERVICE AND SUPPORT
We combine the highest level of application engineering support, controls software programming expertise and mechanical system experience to meet your challenges.
Features
Designed for maximum efficiency in the face of real-world variables, where 99% of the cooling season is spent in off-design conditions
Earn LEED® Points with credits for Energy and Atmosphere (EAc1) and for Enhanced Refrigerant Management (EAc4)
Heat-recovery option available in units up to 2,800 TR (7,000 kW) can provide 1,200 to 40,000 MBH of heat
Chillers equipped with the Quick Start feature can restart in as few as 25 seconds in the event of a failure after emergency power is established
With the OptiSpeed™ Drive, energy consumption can be as low as .20 kW/TR, reducing annual energy costs by as much as 30%
Falling-film evaporator reduces refrigerant charge up to 40%
OptiView™ Control Center ensures optimum performance and easy operation
Seismic Certified
The YORK® YK Centrifugal Chiller is built to last. With seismic certification OSP-0045-10, this water-cooled chiller can maintain operation in the event of an earthquake, making it ideal for sensitive applications, like hospitals or data centers.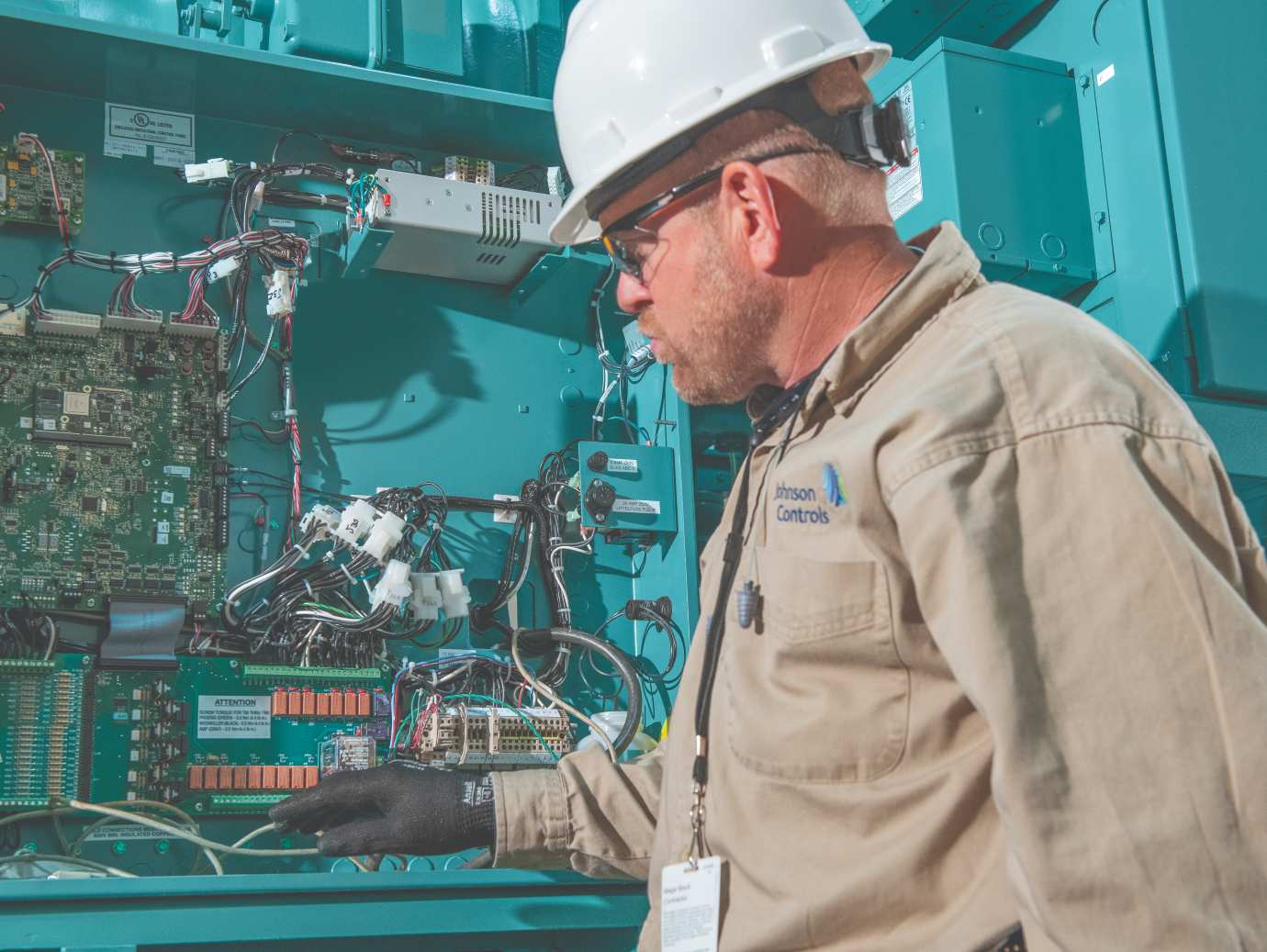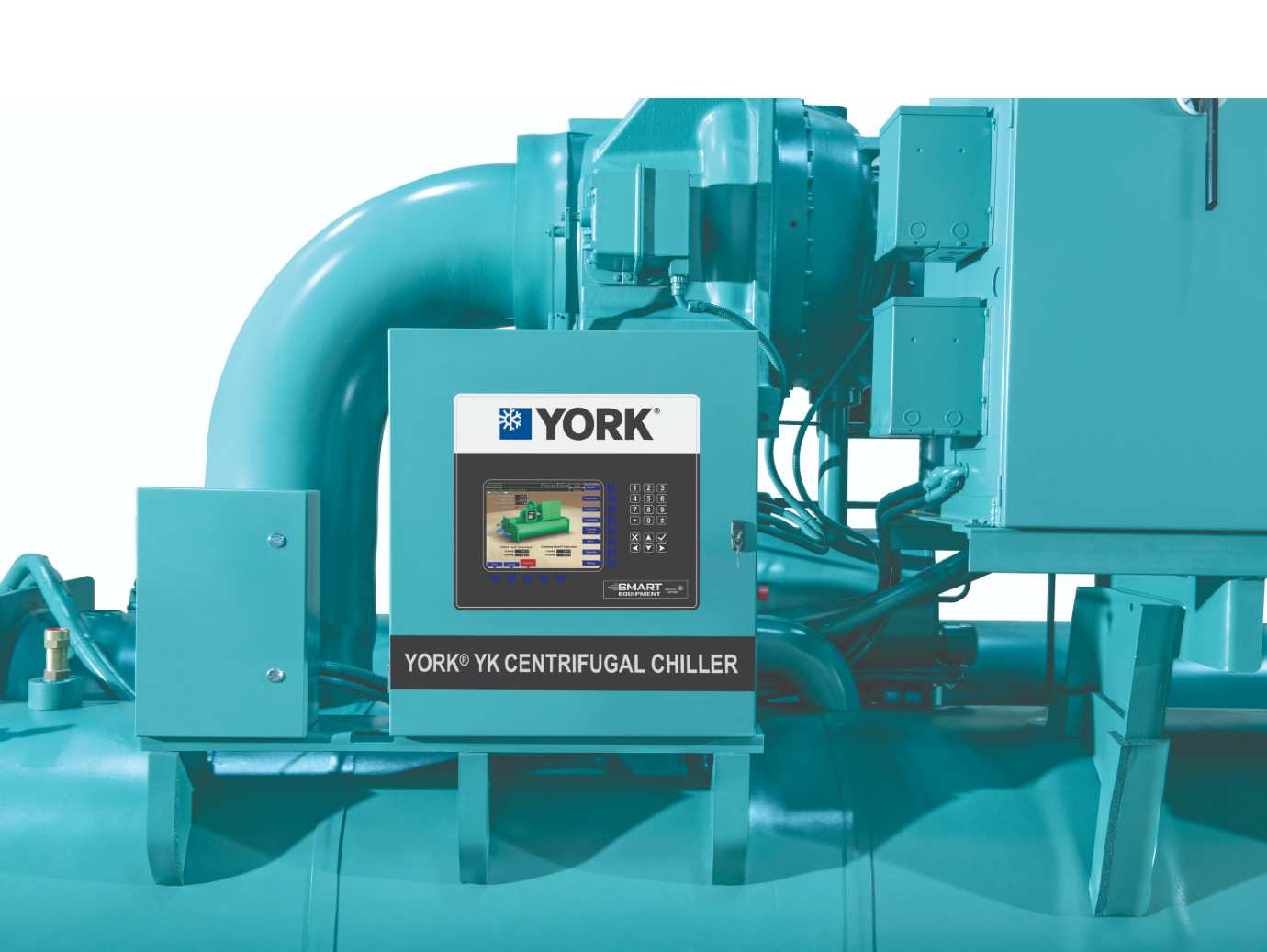 Dependable Operation With Quick Start
The YORK® YK Quick Start feature provides the fastest chiller restart following a power failure, allowing for capacity recovery and reducing the risk of cooling disruptions.


Heat Pump Capability
The YORK® YK has a wide range of application uses, including heat pump capability. The YK chiller can offer hot water temperatures to supplement a building's hot water needs.