YORK® and Building Homes for Heroes®
YORK® and Building Homes for Heroes®
2021 marks the eighth consecutive year YORK® and Building Homes for Heroes® have worked together. Through its sponsorship of the Building Homes for Heroes® program, Johnson Controls, along with YORK® distributors and independent contractors nationwide, has donated quality heating and cooling systems, including installation, labor and ongoing maintenance, to over 100 military families since 2014.
Kirstie Ennis
Rank: U.S. Marine Corps Sergeant
Home Location:
Glenwood Springs, Colorado
U.S. Marine Corps Sergeant Kirstie Ennis nearly died when the helicopter she was flying in crash landed in the Helmand Province of Afghanistan in June of 2012. Ennis began her long road to recovery, enduring more than 40 surgeries including the amputation of her left leg. As she learned how to walk and talk again, her drive and spirit never wavered. She has earned three masters degrees, is a celebrated "disabled athlete" and Paralympian, a revered speaker, and has graced the pages of ESPN and Cosmopolitan magazines all in an effort to raise awareness for wounded veterans and their families.
In this video
Ennis explains how her loss of limb affects her ability to regulate body temperature. As a partner of Building Homes for Heroes®, YORK® provided a variable capacity HVAC system to provide precise comfort.
Mark and Natasha De Alancar
Rank: U.S. Army Staff Sergeant
Home Location: Navarre, Florida

Army Staff Sergeant Mark De Alencar enlisted in the military in August 2008 and served until he was tragically killed in action in Afghanistan on April 8, 2017. While his unit was performing counter-ISIS operations in Nangarhar Province, Staff Sergeant De Alencar died from injuries caused by enemy small arms fire. Staff Sergeant de Alencar is survived by his wife, Natasha, and their five children. In this video, Natasha shares how she and Mark were planning on buying their first home together as soon as he returned from Afghanistan. YORK® was proud to partner with Building Homes for Heroes® to provide this Gold Star Family a home. A special Welcome Home ceremony for the De Alancar family was featured on the nationally acclaimed Lifetime network show, Live Life Forward.
Ricardo Arreola
Rank: Army Specialist
Home Location: Jacksonville, Florida

Army Specialist Ricardo Arreola served nine years in the military including time in Afghanistan. In 2009, he sustained a career-ending injury that ultimately led to a series of events that put Ricardo down a challenging path. After the death of his son, he found himself living in trying conditions with few options. But thanks to Building Homes for Heroes®, Ricardo went from homeless to hopeful. Now he has a free, furnished home for his family with a YORK® home comfort system. Watch Ricardo's story and see how Building Homes for Heroes® and YORK® helped recognize his service.
George Vera
Rank: Master Sergeant
Home Location: Casa Grande, Arizona

In this powerful video, Master Sergeant George Vera describes the harrowing events that led to the life-changing injuries he sustained while serving his country in 2015. Defending a base in Afghanistan, Vera was struck by gunfire four times, which damaged his spine and caused him to lose the use of his legs. His wife Angela explains how Building Homes for Heroes® called her and made sure their family was provided with a custom home to help George live an independent life. YORK®, as a partner of Building Homes for Heroes®, proudly provided a home comfort system to keep the whole family comfortable all year long. See how the Vera family is now able to live a happy, full life at home thanks to Building Homes for Heroes®.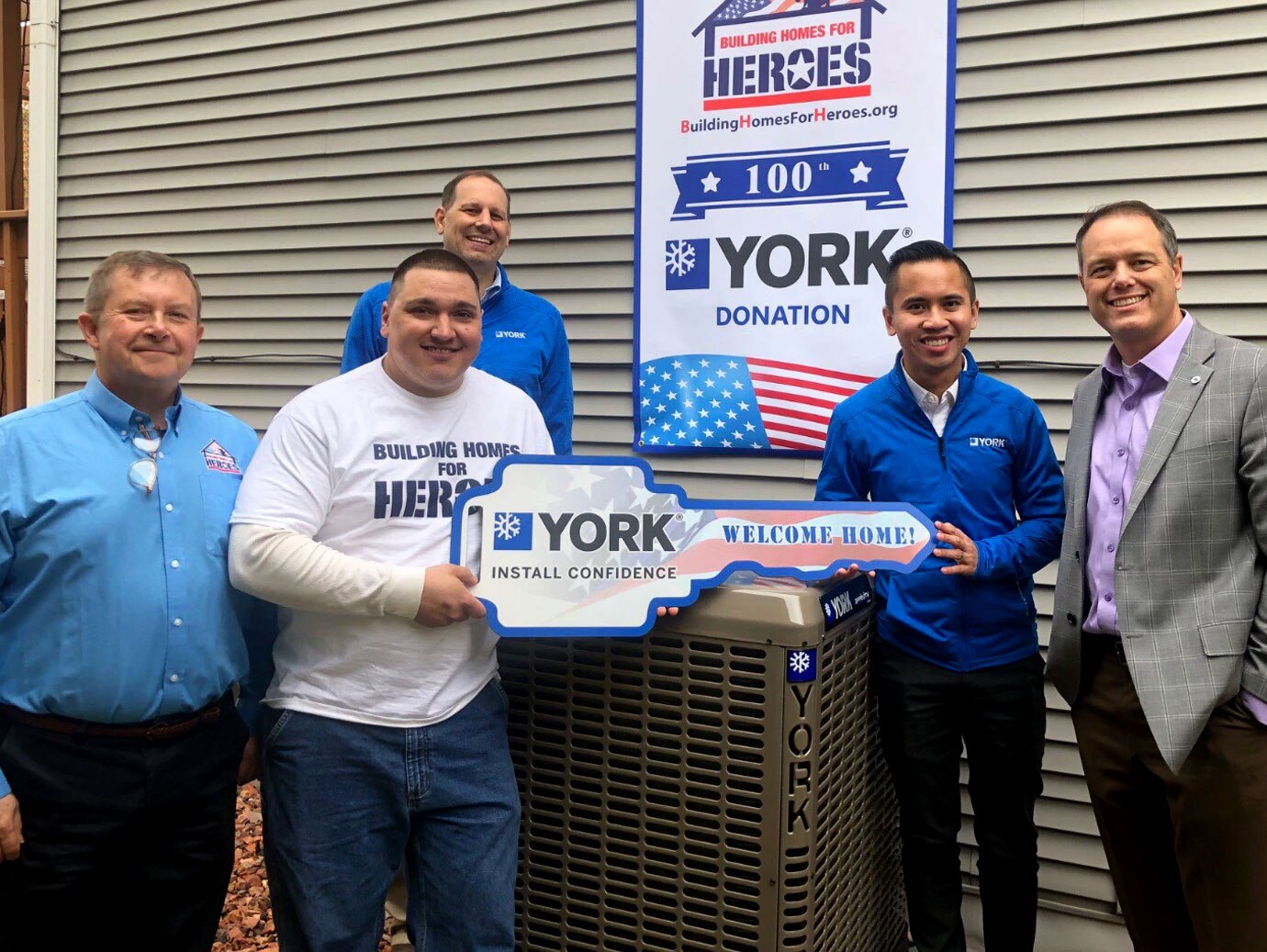 Erick Hoefakker
Rank: U.S. Marine Corps Sergeant

After eight years of service, U.S. Marine Corps Sergeant Erick Hoefakker was medically retired due to several injuries that have caused debilitating pain/ Throughout his tours in both Iraq and Afghanistan, he suffered many exposures to explosions and was thrown from a truck, severely injuring his hip and back. He suffers from a traumatic brain injury, frequent migraines and severe PTSD. In October of 2019, Sergeant Hoefakker and his family received a mortgage free home from Building Homes for Heroes®. This was an especially special occasion for YORK® as it marked the 100th home comfort system donation.
Marcos Jimenez
Rank: U.S. Army Staff Sergeant
Home Location: Murrieta, California

Army Staff Sergeant Marcos Jimenez joined the military to serve his country and make his family proud. On the morning of March 19, 2011, Jimenez was severely injured when the armored truck he was in struck an improvised explosive device (IED). Dragged out of the wreckage, Jimenez was evacuated by helicopter. He suffered a spinal cord injury, a fractured right tibia, a fractured left arm and facial fractures. He also suffered a traumatic brain injury and PTSD.

Staff Sergeant Jimenez was awarded the Bronze Star, Purple Heart, Army Commendation Medals, Army Good Conduct Medals and many other commendations.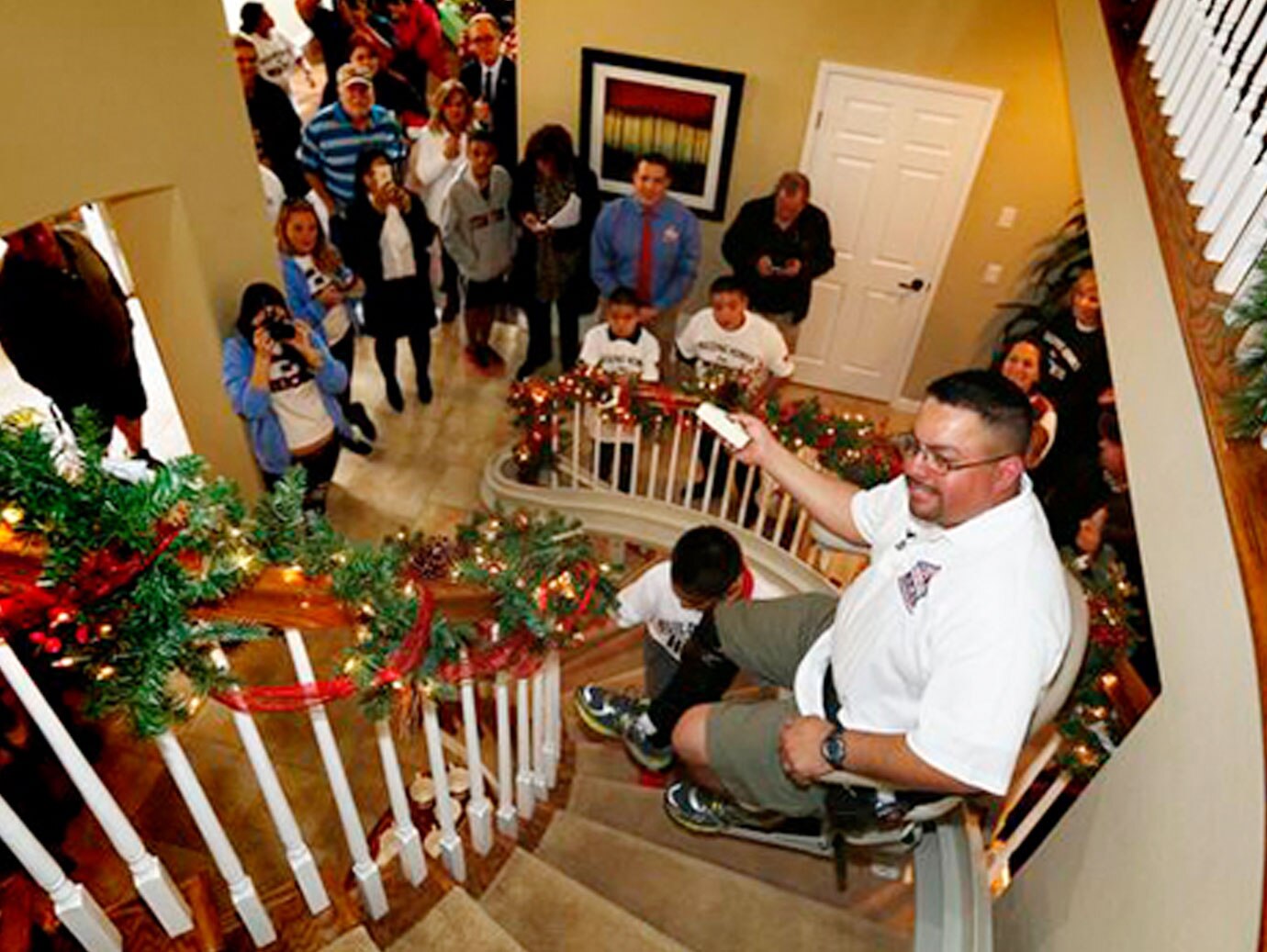 Our Dealer Commitment
YORK® Contractors across the country are responsible for helping facilitate the donation and installation of YORK® HVAC systems in Building Homes for Heroes® projects. YORK® thanks our dedicated contractors and distributors for their involvement in this program for our veterans.

Want to become a YORK® Building Homes for Heroes® Contractor? Talk to your Territory Manager or YORK® Representative about volunteering for upcoming projects. Call (877) 874-7378.
How to Support
Stay up-to-date on upcoming events and developments by following us on Twitter
@YorkHVAC
or Facebook
@yorkhomecomfort.
We'll share our efforts with Building Homes for Heroes® to provide mortgage-free homes to injured veterans from the Iraq and Afghanistan wars. Building Homes for Heroes® welcomes donations and seeks volunteers across the country. To see how you can volunteer – and the different ways you can help – click the How to Help button.
Donate here.