Tips for Working With an HVAC Dealer
Before calling your contractor for service, take a moment to make sure you're prepared for the appointment.
There are many reasons why you might want to contact an HVAC dealer – equipment failure, uneven heating or cooling, strange sounds or smells or an increasingly high electric bill. But whatever your reason, there are ways you can make the conversation with an HVAC dealer or contractor more productive. Here are a few tips.
How to choose a dealer
For the best and most experienced service over the long term, it's worth doing your research to find the right dealer. Here are a few questions you should ask before selecting yours.
Do they work with YORK® equipment on a regular basis?
Do they have experienced technicians and have they been in business for more than a few years?
Do they have a number of positive reviews?
It's worth asking these questions of your current dealer, if you have one. If you aren't completely confident, don't be afraid to get a second opinion on repairs or replacements.
What to check before you call
Before calling your contractor for service, take a moment to make sure you're prepared for the appointment. Here are a few things you can do to prepare for your service appointment.

Gather information:
Write down the model numbers of all your HVAC products.
Know how long ago your problem began.
Provide a phone number for technicians to confirm the service visit.
Address the basics:
Make sure the system is accessible – remove anything blocking your products.
Keep pets in a separate room so they don't get in the way or become overly excited.
Arrange for an adult (18 or over) to be home to allow entry.
If you rent your home, get your landlord's permission to have your system serviced.
Also check:
Your air filter. A dirty air filter is a common cause of problems.
If you discover your heat pump or air conditioner are frozen, shut off to allow thawing before the technician arrives.
Questions your contractor or dealer might ask during a visit
To get the most from your meeting with your dealer, you may want to think over some basic questions. Your answers will help your dealer give recommendations about the right product for your home.
What home comfort product(s) does your home already use? An air conditioner? Heat pump? Gas furnace? Air handler? Indoor air quality products?
Are you satisfied with your winter and summer comfort level?
How long do you intend to stay in your home?
Do you have any indoor air quality issues, such as dust, asthma, allergies, etc.?
Are you interested in investing in very energy-efficient equipment to save energy in the long term?
Do you spend a lot of time away from home?
Ways to ensure you're working with the right dealer
The performance of any HVAC system is largely dependent on proper installation. A system that is too small – or too large – will negatively impact efficiency, for example. And an improperly installed system could also lead to long-term problems that may not be apparent right away. While you'll want to choose a well-established dealer with positive reviews who regularly works with YORK® equipment, there are a few more things to look for when selecting an HVAC dealer.
NATE-certified Technicians: YORK® Certified Comfort Expert™ employs NATE-certified technicians – an industry-recognized, third-party designation of excellence.
100% Satisfaction Guarantee: When you work with a YORK® CCE Contractor, for example, your installation is backed with a 100% Satisfaction Money Back Guarantee. That means on installation work, YORK® will address any material or workmanship issues, or we will remove the installed equipment and refund your money.
The YORK® CCE badge: A designation that indicates you're working with contractors who participate in ongoing training, install only premium-quality equipment and have a proven track record of success and customer satisfaction.
Need more advice? Contact your YORK® Dealer for helpful, courteous advice on a system that will improve the comfort and energy efficiency of your home.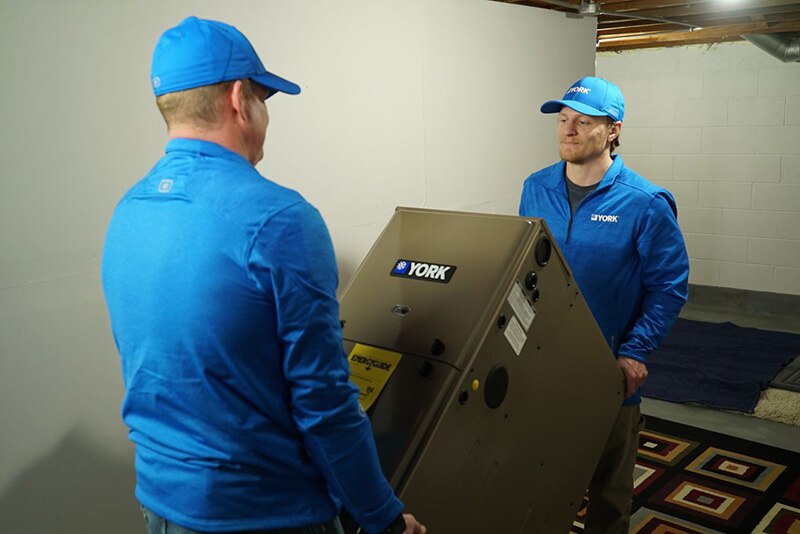 Speak with an Expert
Our Certified Comfort Experts are highly trained in home heating and cooling needs, and can provide you with a personalized solution that's right for your home.
Schedule a Home Consultation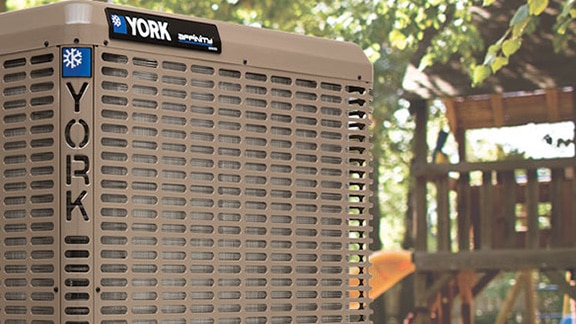 What you need to know about having a new AC or heating system installed in your home.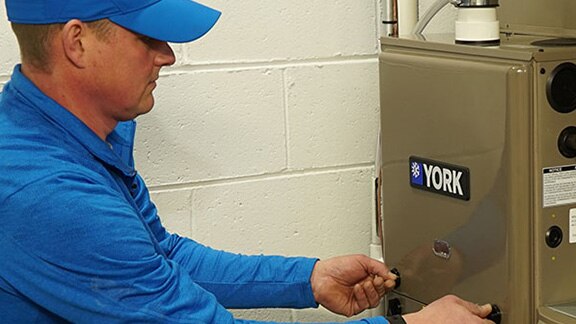 Better understand what decisions are required when purchasing a new HVAC system.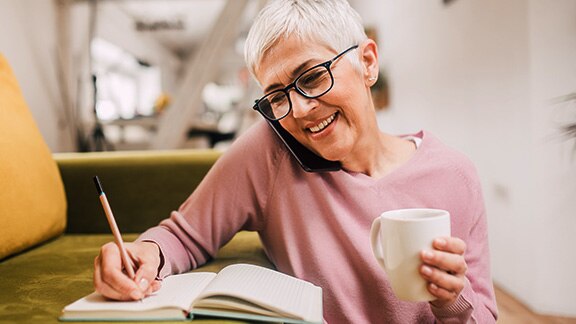 Find out what you can expect to pay when having an HVAC system installed.